From desert to mountains to endless sky, wide open spaces and only a scattering of population, the eastern side of the Sierra Nevada Mountain Range towers over a vast desert landscape and is certainly a region full of contrasts, whatever the season.
The Sierra Nevada Mountains stretch from south to north for 400 miles, beginning in the south in Kern County, California (north of Los Angeles) to Modoc County, California, near the Oregon border. The mountain range rests mainly in California, with a spur venturing off east into Nevada.
To the west of the range lies the fertile Central Valley and, beyond that, sparkles the Pacific Ocean. The west is populated and well-travelled, with well-known access to the Sierra Nevada mountains via Yosemite and Sequoia National Parks and Lake Tahoe, to name a few.
But the real beauty of the Sierra Nevada Mountains can be experienced to the east of the mountain range by travelling along the beautiful and somewhat lonely U.S. Highway 395, which begins north of Los Angeles, in the Mojave Desert. The highway meanders 1,300 miles to the Canadian Border – 557 miles of it along the Sierra Nevada mountains in California.
And, oh! What a journey it is!
For this website's inaugural spontaneous road trip, I travel about 270 miles of it, from Los Angeles to Bishop, California. My little road trip is spontaneous, but I've got in mind where I'm headed before I start . . .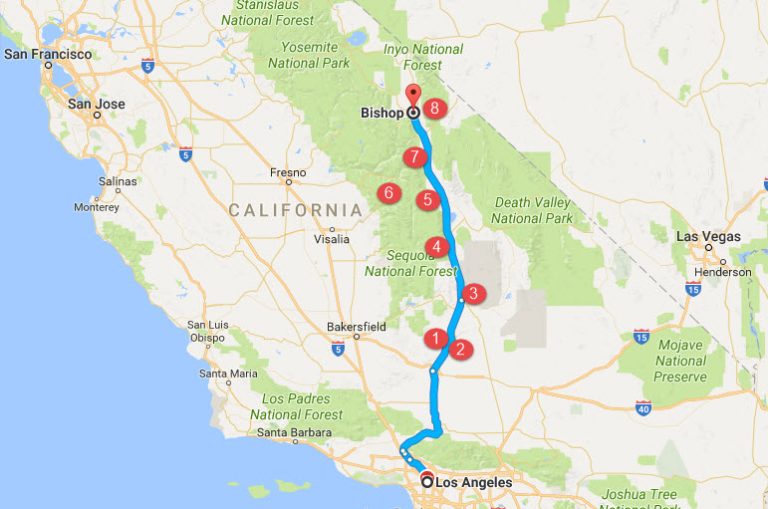 I jump in the car very early in the morning – Los Angeles traffic is heavy, whether it be weekday or weekend – and I am anxious to get on the open road!
[1] First stop is Red Rock Canyon State Park, about 120 miles north of Los Angeles (on Hwy 14 in the Mojave desert, before it merges with Hwy 395). The 27,000 acre park features vividly colored red rocks, cliffs and buttes in a pristine desert landscape. The colorful rock formations in the park served as landmarks during the early 1870s for 20-mule team-mule team freight wagons that stopped there for water. The park protects paleontology sites and the remains of 1890s-era mining operations. Several movies have been filmed here.
For me however, it is much, much simpler than that. The best things about this park are simply the wide-open spaces and opportunities for reflection and solitude. I stay awhile.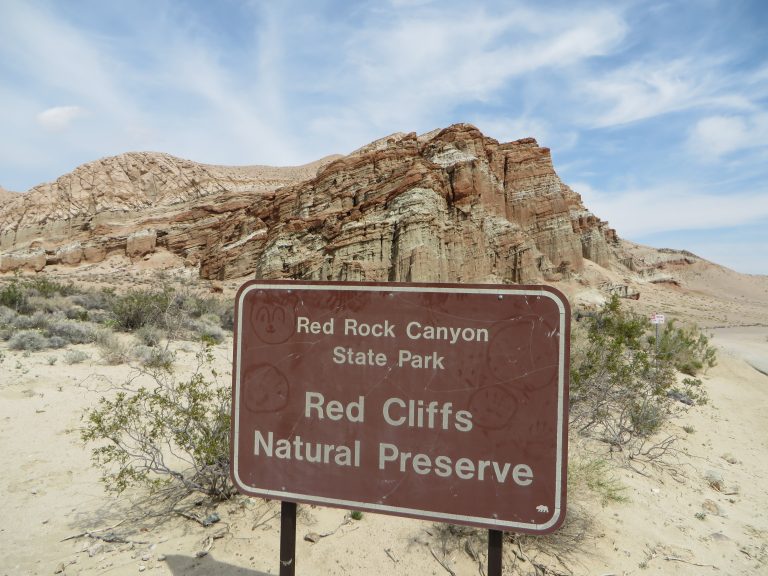 [2] Just past the state park, is the historical Burro Schmidt tunnel, a half-mile mining tunnel begun in 1900 and dug with dynamite and hand tools over a 38-year period by William "Burro" H. Schmidt. Located on BLM land about 8 miles east of Hwy 395, the entrance is clearly marked. A high-clearance vehicle is recommended to navigate the back roads. Surprisingly, this area can be somewhat busy with campers and ATV'ers enjoying the desert.
For me, it feels like I am on an adventure navigating the dirt roads and discovering a little sliver of Americana. It leaves me dusty and happy.
https://www.kcet.org/shows/artbound/william-burro-schmidt-and-his-tunnel-to-nowhere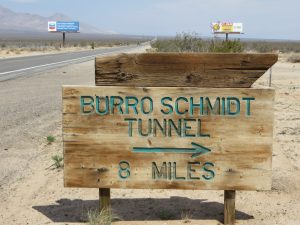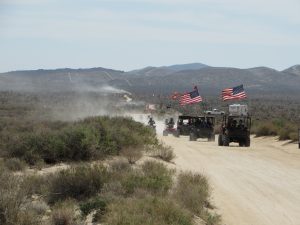 [3] About 25 miles north of where Hwy 14 merges with Hwy 395, is Fossil Falls. If you are expecting to see water, guess again! This was a waterfall about 10,000 years ago when there were several lakes cascading down the now mostly-dry Owens Valley. But the moon-like lava terrain make it well worth an other-wordly stop. It is easy to see where the water once thundered over sheer cliffs. There is a small parking area with restrooms and a well-marked path to the "falls."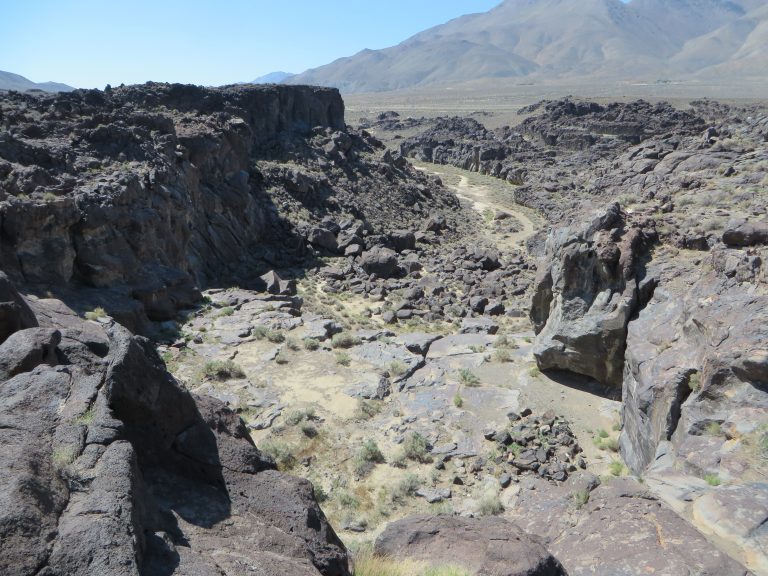 Look closely, can you spot the lizard?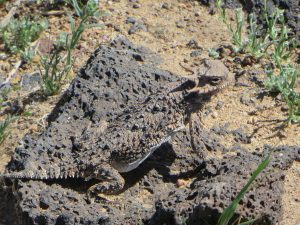 [4] As I continue my road trip north on Hwy 395, I finally feel like I can truly relax. This is what "open road" is all about! There are sweeping vistas of the southern Sierras and the scenery becomes grander and increasingly vast.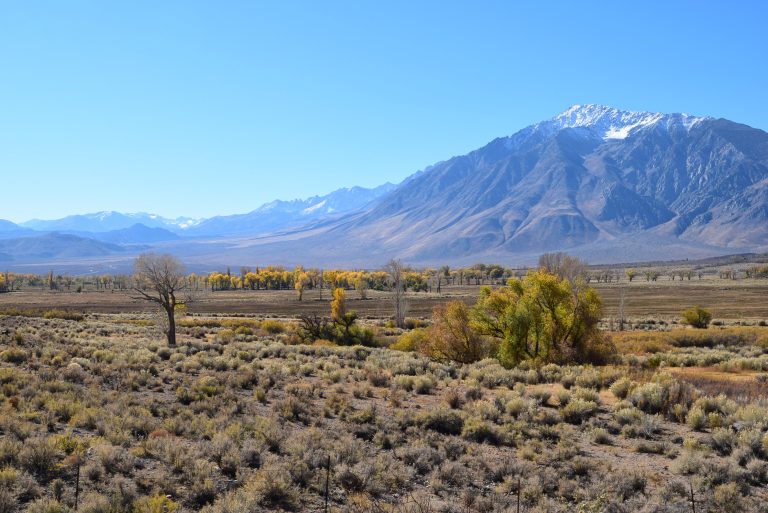 And, little settlements that epitomize American kitsch.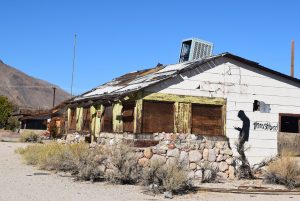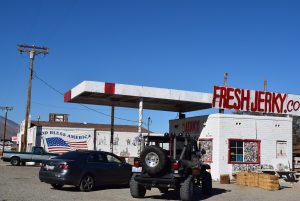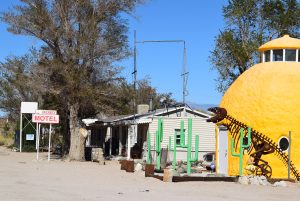 A great lunch spot is the Ranch House Café in the tiny town of Olancha; I had the Indian Fry Bread, of course! This tiny former mining town is near the southern tip of the (mostly) dry Owens Lake and is noted as a stopover hideout for two Manson family members in August 1969 after they committed the infamous murders in Los Angeles.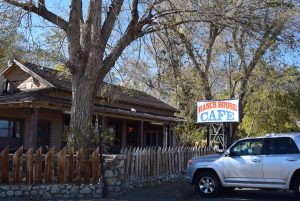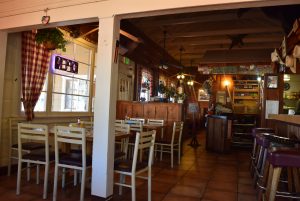 [5] Another 25 miles up the highway is Lone Pine, gateway to Mt. Whitney and the rock formations known as the Alabama Hills. Lone Pine's Main Street, which happens to be Hwy 395, is lined with cafes, no-frills motels and adventure outfitters. The tourists I see here range from enthusiastic Europeans to young backpackers to curious families.
Heading west from Lone Pine's Main Street on Whitney Portal Road, the elevation rises very quickly and, before long, the rocky Alabama Hills come into site, with Mt. Whitney and other Sierra Nevada peaks as the backdrop. Whatever the season, this landscape is truly breathtaking.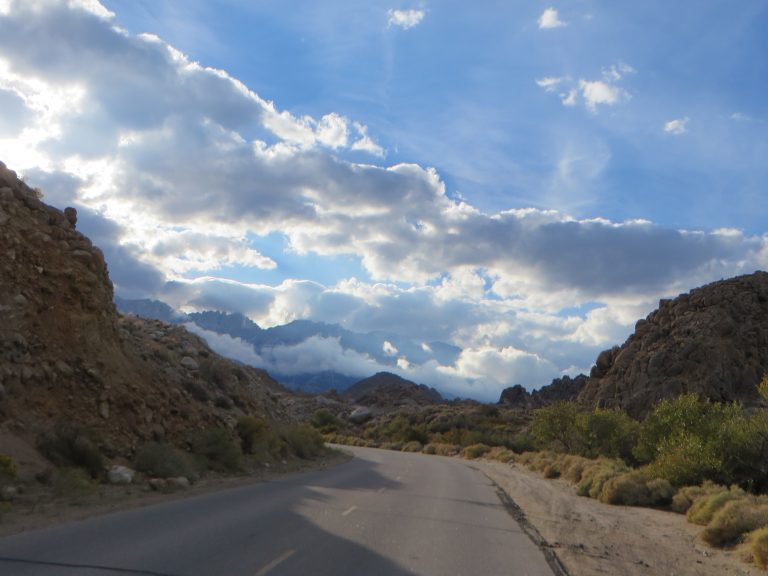 Many westerns were filmed in the Alabama Hills; Lone Pine has a Western Film History Museum highlighting those films.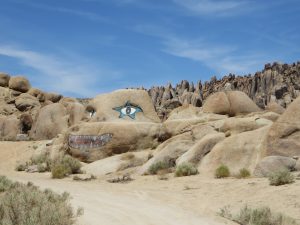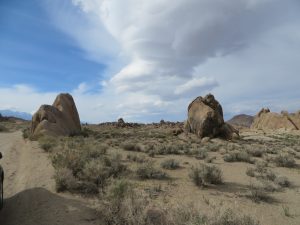 [6] I continue past the rock formations up Whitney Portal Road and the landscape becomes less desert-y and more alpine. A sign warns me of bears. Depending on snowfall, the road to Whitney Portal is only open to vehicles from about June to October. A gate will stop you if it's closed. My car groans up about seven miles of switchbacks and, just like that, I am there! The trailhead to the 11-mile trail to the 14,505 foot summit of Mt. Whitney – highest in the lower 48 states – beckons many who are here. Instead, I grab a burger at the camp store/café and enjoy it out on the deck. I linger at the waterfalls, but am chased away by curious chipmunks. I enjoy the little pond instead.
The air is cool and pine-scented – such a contrast from the heat of Lone Pine, just 13 miles down the road (and 4,647 feet below!)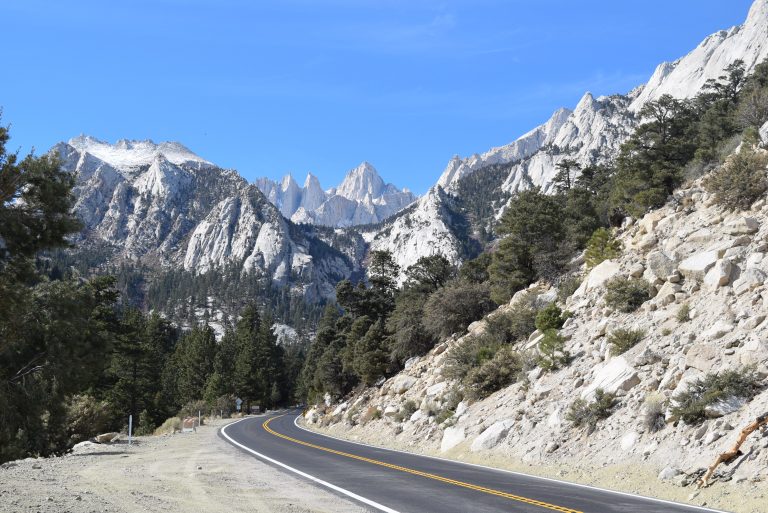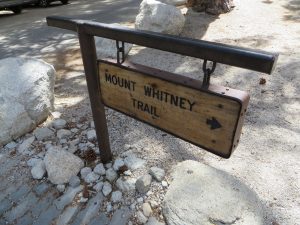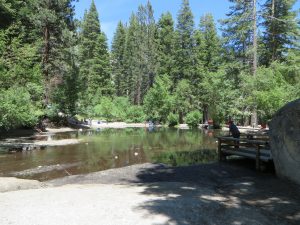 [7] Reluctantly, I make my way down the mountain and, shortly after heading north again on Hwy 395, I make it to Manzanar National Historic Site before it closes at 4:30 pm. The site is one of ten American internment camps where over 110,000 Japanese Americans were imprisoned during World War II from December 1942 to 1945. The museum and barracks are a sobering sight.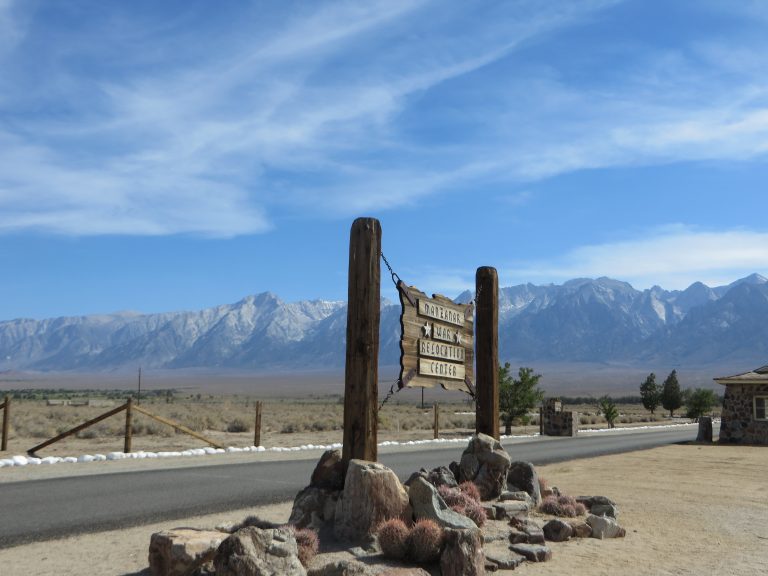 [8] Almost there . . . I make it to Bishop just in time to buy dinner provisions at Erick Schat's Bakkery (which closes at 6 pm daily/7 pm on Fridays). Bishop is the largest town in the eastern Sierras (3,700 population) and is surrounded by the Sierra Nevada Mountains to the west and the White Mountains to the east. There is not one bad view in town.
The bakery is a must-stop for travelers passing through, with a huge variety of breads, pastries and sandwiches available. The (surprisingly) Dutch bakery is most famous for its "Original Shepherders Bread" (since 1938), which was introduced to the region by Basque (not Dutch) shepherds. There is also a dizzying array of other bread types and flavors.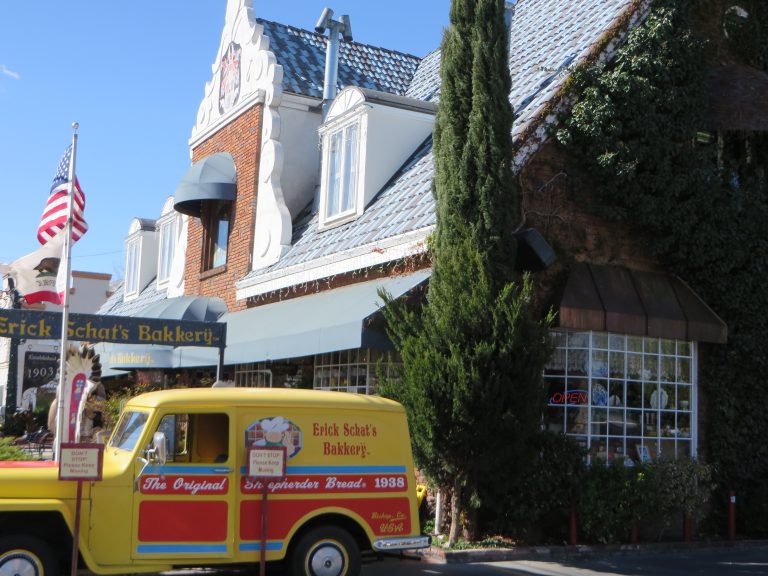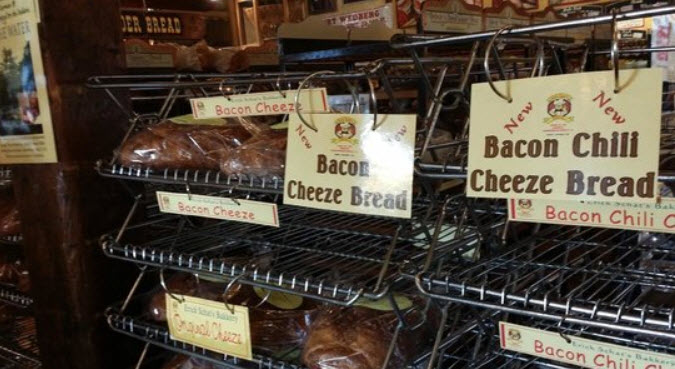 If you are fortunate enough to be in town over Memorial Day, you will see Bishop's largest event – Bishop Mule Days Celebration, which promotes the legacy and heritage of the mule. Who knew?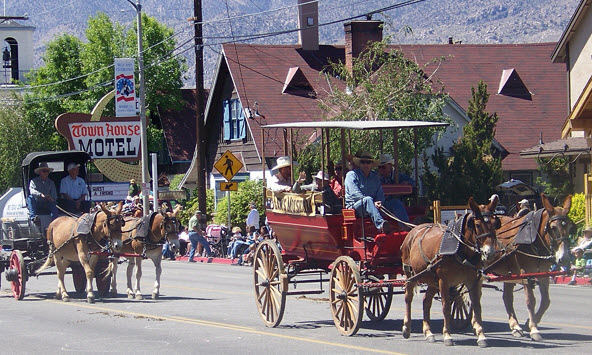 Then, just like that it's time to head home . . . but I'm still enjoying the scenery as I go! Until next time . . .