I had visited Seattle several times over the past couple of decades and, while I liked it well enough, I always compared it to that other Pacific Northwest city – Portland. And, I preferred Portland.
That is, until my son moved there. To get a real sense of Seattle, one must spend time in the unique neighborhoods, get off the tourist trail and explore. Two of the richest men in the world have chosen to live in Seattle – Bill Gates (Microsoft) and Jeff Bezos (Amazon) – when they could live anywhere, so I guess that says something.
Seattle has a flourishing economy and it is an energetic, forward-looking (and might I say, liberal) city – rich in culture and easy-going lifestyles. They say that locals have a reputation for being unfriendly, but I have not seen any evidence of that whatsoever. Just try crossing a street! Drivers will courteously stop at a respectful distance and wait patiently – even if you are just standing at the side of the street only contemplating the traverse.
Additionally, the city boasts a magnificent natural setting: to the east are the Cascade Mountains and majestic Mount Rainier, rising into the sky. There is just no other word to describe it when you see it rising above the city (even though it's nearly 100 miles away). To the west are the partly snow-capped peaks of the Olympic Mountains and the promise of its rain forests within and the Pacific Ocean beyond.
Then, there's that coffee culture. My favorite coffee shop anywhere is in the Green Lake neighborhood – Café Lulu (6417 Latona Ave.). They advertise it as being "an extension of your own home" and I would agree – just with better coffee and food. But get there early, it's only open until 2 pm (weekends) or 3 pm (weekdays).
And the weather is not so bad. A little drizzle is no problem at all, especially when you come from dry southern California. And it certainly doesn't stop any of the locals from going about their daily business. Outdoor farmer's markets, joggers, park attendance and the like don't seem to be at all affected, with hardly an umbrella in sight. But, having said that, sunshine is like pure gold in Seattle. Especially in the summer – workers leave work early, everyone goes outside, people linger . . .
Seattle definitely deserves an extended visit and, yes, if it's your first time, you should probably do some of the touristy stuff.
Here's a compilation of some of my favorite places and things to do . . . touristy and not so much.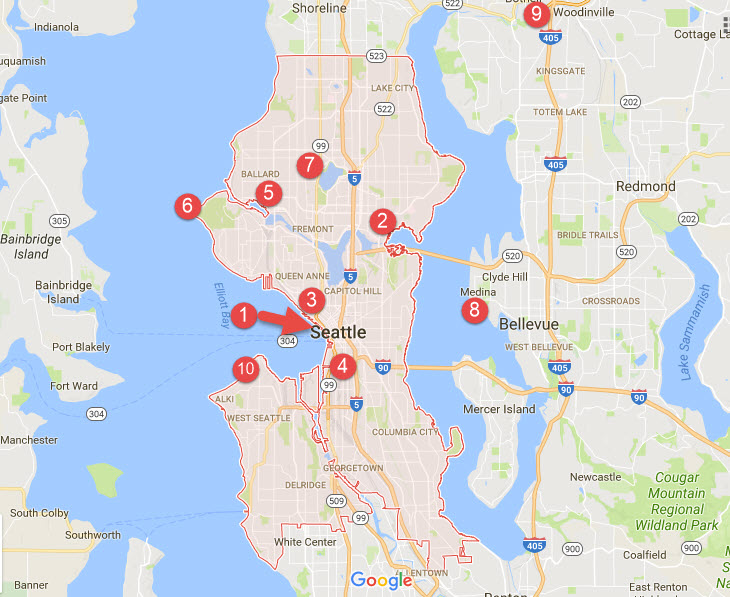 [1] Pikes Place Market and the waterfront that skirts along Elliott Bay on the Puget Sound is certainly touristy but it should absolutely not be missed! Bustling, crowded and colorful – it is a still a place where you can go buy fish, flowers, vegetables, and more. There are numerous bakeries, cafes, restaurants and shops – great places to linger and people-watch and enjoy a bowl of seafood chowder while you do.
The market started in 1907 and is one of the oldest continuously operating public farmers markets in the United States. 2017 saw the opening of the "New Market Front" which adds 12,000 square feet of space on the "rear" side of the market facing the waterfront.
Continuing down the staircase from the market leads to the waterfront where one can spend an afternoon strolling and enjoying the shops, restaurants and outstanding views along the piers. You can even catch a ferry over to Bainbridge Island.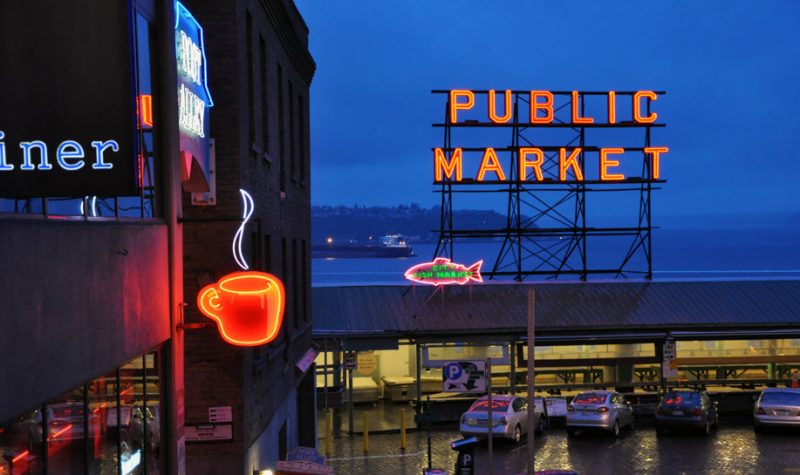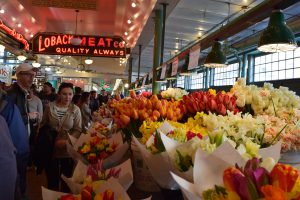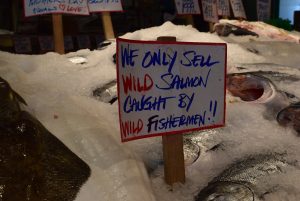 [2] A visit to University of Washington and the funky neighborhood that surrounds it along University Way is worth a visit. My all-time favorite Thai restaurant is there. Thai Tom (4543 University Way NE) is tiny and you may have to wait, but the counter seats are the best in the house with front row views of the amazingly choreographed food preparation. Oh yes, and the food is delicious, too!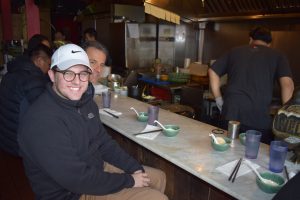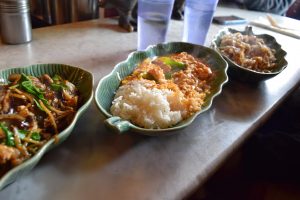 Don't miss the University District Farmers Market which happens every Saturday morning (year round, rain or shine) with up to 70 farmers, vendors and cooks selling local ware. This is the best way, by far, to mix with the locals.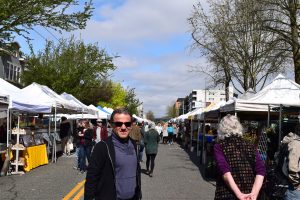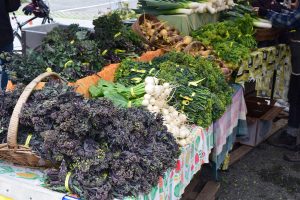 [3] The Space Needle is definitely touristy but it is located in the Seattle Center which houses a planetarium, laser dome and two Imax theaters, so you will see plenty of locals. The Space Needle, built in 1962, has become one of the most recognizable symbols of Seattle and, if you must, you can buy a ticket ($22) to ascend 520 feet to the observation deck. I'd much rather just look at it from afar!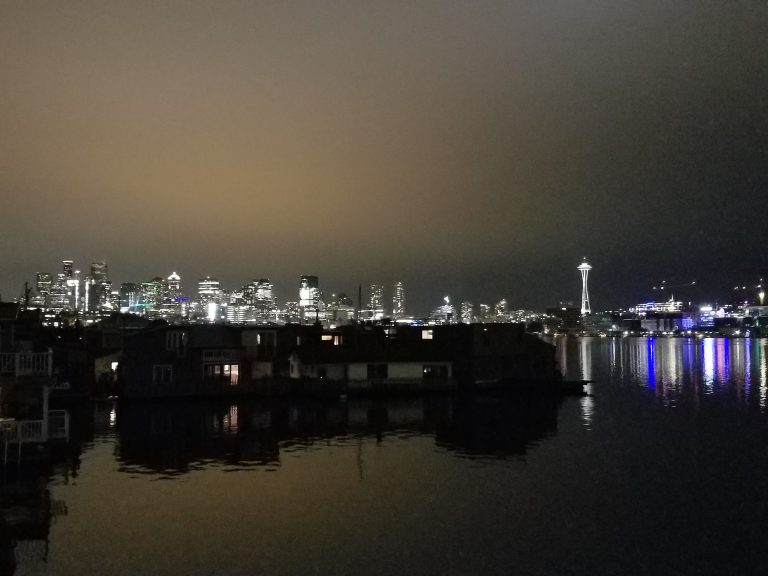 [4] Pioneer Square is the historical heart of Seattle, settled in 1852. I wasted a bit of time looking for "the square," but it refers to a neighborhood, not a square (roughly bordered by the waterfront to the west, Cherry St. to the north, Interstate 5 to the east and King/4th Ave./Yesler to the south).
But then I got lost wandering the tree-shaded streets bordering grand old Romanesque Revival buildings, which is really what Pioneer Square is all about. Like any downtown urban area, homeless people abound, but the neighborhood is well worth visiting. There are art galleries, weekly art walks, coffee shops, bars and restaurants. The area seems to be up and coming.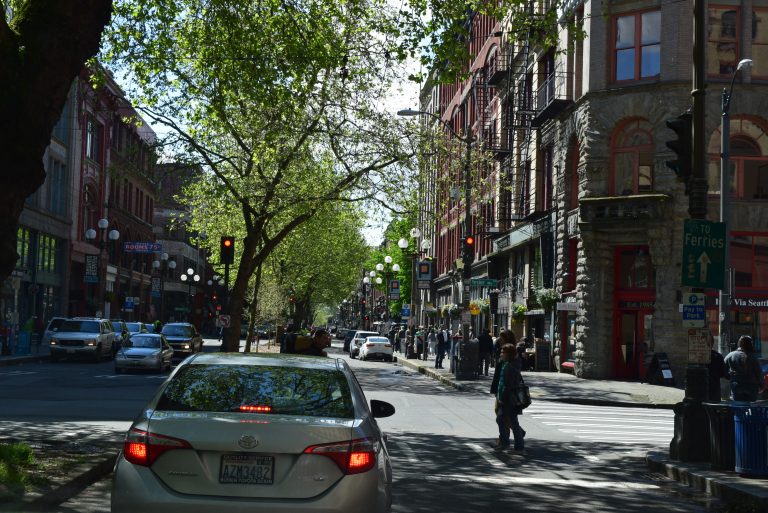 [5] Hiram M. Chittenden Locks/Ballard Neighborhood, located at the west end of Salmon Bay/Lake Union.
The locks provide a link for boats between the saltwater of Puget Sound and the freshwater of the Ship Canal, which then connects to Lake Union and Lake Washington. The locks were created 100 years ago by the city and the US Army Corps of Engineers to create a commercial navigation route. Today, the locks contribute over $1.2 billion per year to the Seattle economy and are the nation's busiest with over 40,000 vessels per year.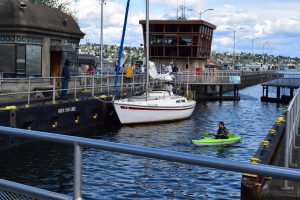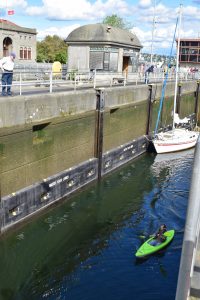 Next to the locks is a Fish Ladder, where you can watch salmon migrate up the ladder on their way to spawn in the Cedar River, Issaquah Creek, Bear Creek, among others. Best viewing is from mid-June through September. Significant salmon runs pass through the locks can exceed 150,000 adult salmon in a year! Who knew fish could be so fascinating?
The Ballard neighborhood, near where the locks and fish ladder are located, is one of Seattle's "hippest" neighborhoods, with many long-established restaurants as well as some of the trendiest. The neighborhood hosts a busy year-round Sunday morning farmers market – well worth a stroll.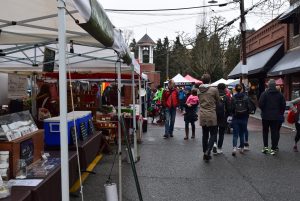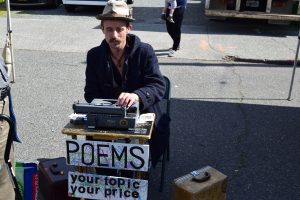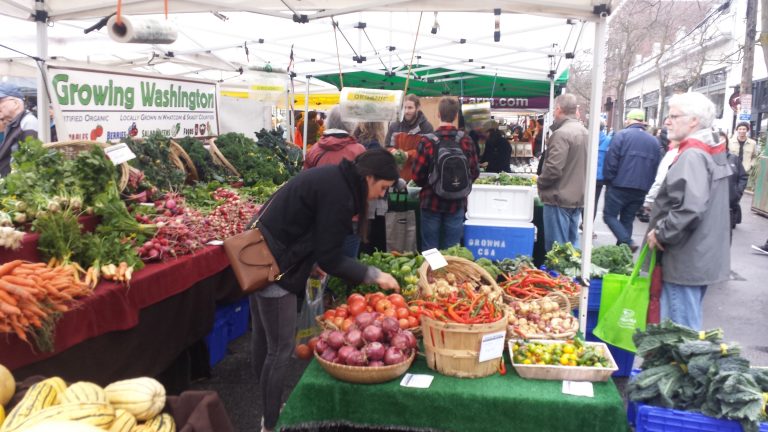 [6] Discovery Park is a 534 acre natural park situated on Magnolia Bluff overlooking the Puget Sound. The site is breathtaking with views of both the Cascade and Olympic Mountain ranges. The park has two miles of protected tidal beaches plus sea cliffs, dunes, forests, streams, and meadows.
A highlight of the park is the West Point Lighthouse. The best thing to do there is simply sit on the rocks below the lighthouse and enjoy the outstanding views while listening to the waves lap up on the shore. Just a note that there is no parking in the small lot next to the lighthouse; you will get a ticket! But park nearby in a legitimate lot and take a quick stroll on one of the many paths leading to the lighthouse.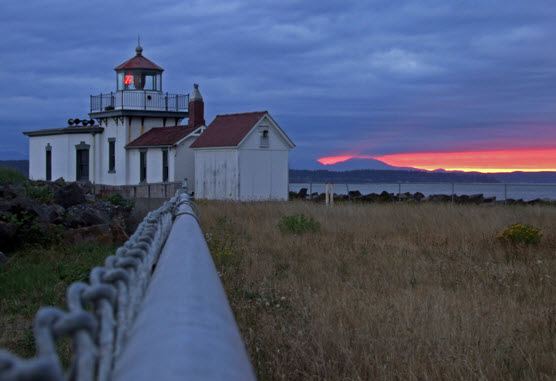 [7] Green Lake is an actual lake but also refers to the park and neighborhood surrounding the lake. The lake is very popular with Seattle locals – rimming the perimeter is a 2.8 mile paved walkway which draws hundreds of walkers, bikers, skaters and runners everyday – rain or shine. The surrounding park contain a bathhouse (now home to a small venue for plays), a boathouse, community center, tennis courts (also used for pickleball), etc.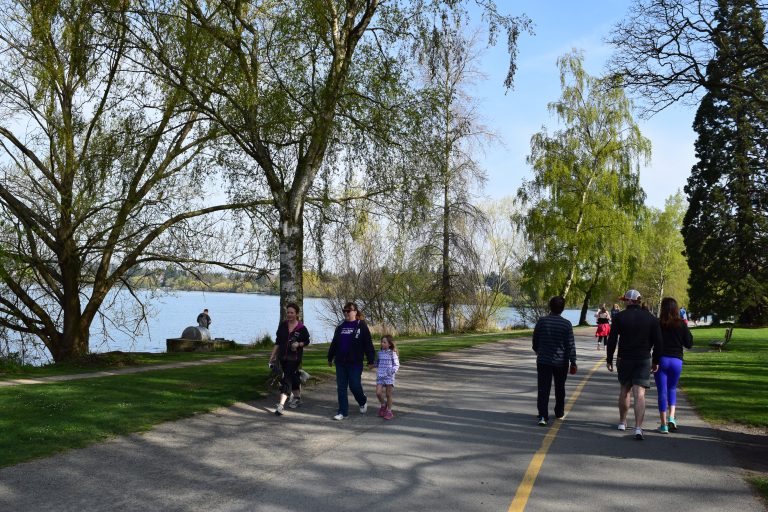 Grand houses overlook the lake. The surrounding neighborhood has undergone a great deal of development in the past decade or so – home remodels, new condos and town homes. Old and new coexist in a most charming way. A stroll around the neighborhood reveals a pride of ownership – from the neatly landscaped yards, lush and green from all that Pacific Northwest rain, to the attractive homes.
The neighborhood is close enough to downtown Seattle to be convenient but far enough away to be quiet. Tucked away in the tangle of streets are coffee shops, restaurants and shops. There's the Latona Pub (6423 Latona Ave NE) for drinks and comfort food, Nell's (6804 East Green Lake Way N.) a posh restaurant with a view voted one of Seattle's best and Chocolati (7810 East Green Lake Drive N.) for gourmet chocolates and espresso in a cozy cafe, just to name a few.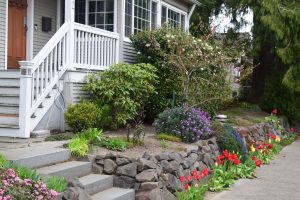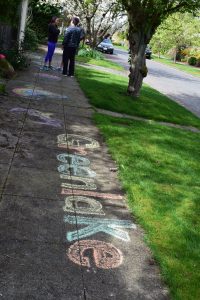 [8] Medina is Seattle's Gold Coast – the Beverly Hills of Seattle, if you will. Medina is a peninsula in Lake Washington which skirts the waterfront and affords the most breathtaking views – of both nature and of the luxurious homes that line the shore. Just 3,000 residents, the community is very small and quiet, with an elegant small town vibe. Don't miss a wishful drive through!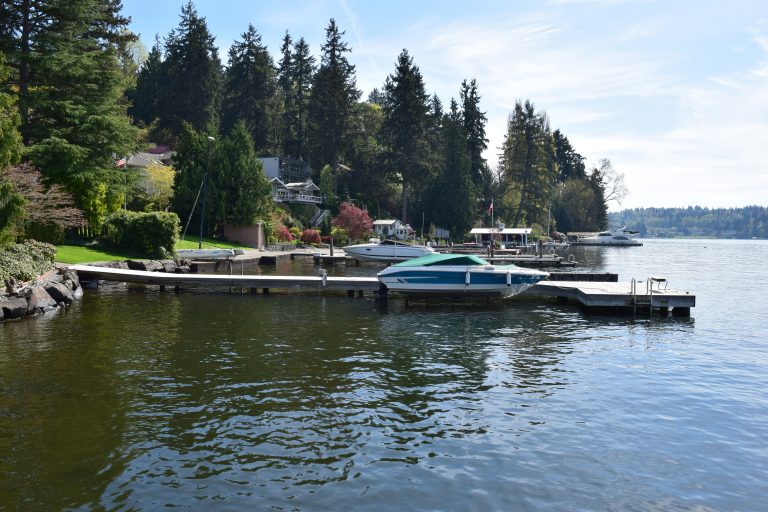 [9] Woodinville – about 19 miles northeast of Seattle – is a small town best known for wineries (over 90!) although there are many breweries, cideries and distilleries as well. Just a 30 minute drive from downtown Seattle, Woodinville is located in a beautiful river valley and is a haven of sorts for Seattle locals. Just go there on a sunny summer weekend! Lunch at Red Hook Brewery (14300 NE 145th St., Woodinville) followed by a winery tour at Chateau St. Michelle (14111 NE 145th, Woodinville) is a day well-spent.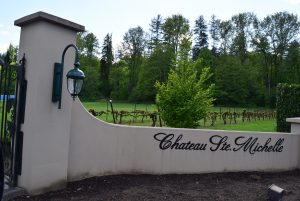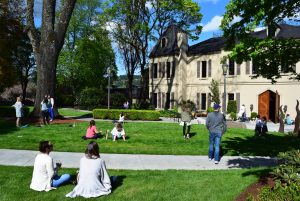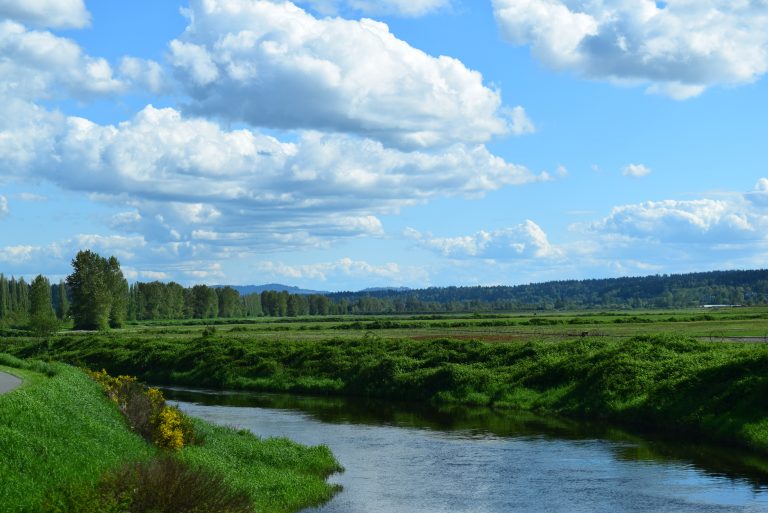 [10] A short bridge heading west from downtown leads one to West Seattle, which has a laidback beachy vibe. Aside from being a great place to live, the shoreline includes majestic views of Puget Sound and the Seattle skyline as well as Mt. Rainier and the Cascade mountains to the east and the Olympic mountains to the west. Casual eateries, funky shops and coffee houses line up along Alki beach where one can relax and people-watch as well as view ferries as they pass by on the sound.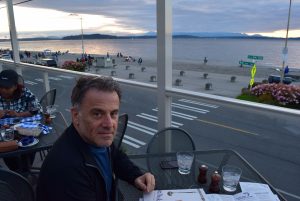 But wait! There's more! Explore further away from Seattle and you will find more outstanding sites:
– Bainbridge Island
– Orting and Orting Valley (closer to Mt. Rainier with magnificent views)
– Deception Pass / Whidbey Island
– Snoqualmie Falls
But those are for future blogs . . .